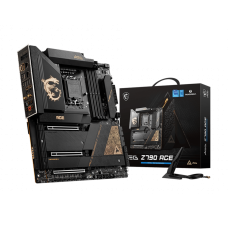 MEG Z790 ACE
Supports 12th/ 13th Gen Intel® Core™, Pentium® Gold and Celeron® processors for LGA 1700 socket

Supports DDR5 Memory, Dual Channel DDR5 7600+MHz (OC)
Dual Thunderbolt 4 ports: Thunderbolt USB-C at true 40 Gb/s speeds, 8K display support, Daisy-Chaining and Multi-Port Accessory Architecture provide reliable connectivity and better user experience.
Extreme Power Design: 24+1+2 phases power design with 105A Smart Power Stage and dual CPU power connectors are ready to unleash the maximum performance.
Maximum 5 x M.2 Connectors: Onboard quintuple M.2 connectors including one PCIe 5.0 solution for the maximum storage performance. The double-sided Shield Frozr design keeps M.2 SSDs safe while preventing throttling, making them run faster.
Outstanding Cooling Solution: Stacked Fin Array, Direct Touch Cross Heat-pipe, Aluminum Backplate, 7W/mK thermal pads, double-sided M.2 Shield Frozr and Frozr AI software ensure the extreme performance with low temperature.
Dual 2.5G LAN with latest Wi-Fi 6E solution: Onboard dual 2.5G LAN with the latest Wi-Fi 6E solution which supports 6GHz spectrum delivering the best online gaming experience.
Lightning Fast Game experience: PCIe 5.0 slots, Lightning Gen 5 x4 M.2, Dual Front USB 3.2 Gen 2x2 20G with one 60W USB Power Delivery.
DIY Friendly Design: Patented Magnetic & Screwless M.2 Shield Frozr, EZ M.2 Clips, Smart Button, Pre-installed I/O Shield, Steel Armor
8 Layer PCB with 2oz Thickened Copper: Provides higher performance and long-lasting system stability without any compromise.
Audio Boost 5 HD: Ultimate audio solution with latest premium ALC4082 audio processor combining ESS audio DAC and amplifier deliver the breathtaking experience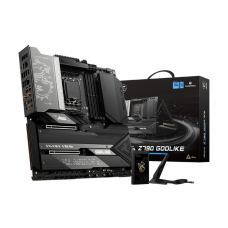 MEG Z790 GODLIKE
Receive a $100 Store Credit with Z790 GODLIKE Purchase

Supports 12th/ 13th Gen Intel® Core™, Pentium® Gold and Celeron® processors for LGA 1700 socket

Supports DDR5 Memory, Dual Channel DDR5 7800+MHz (OC)
M-Vision Dashboard: The touchable 4.5-inch full-color IPS LCD not only indicates the status of your gaming rig which combines hardware monitor and debug function, but also allows system operation and customization with touch control.
Dual Thunderbolt 4 ports: Thunderbolt USB-C at true 40 Gb/s speeds, 8K display support, Daisy-Chaining and Multi-Port Accessory Architecture provide reliable connectivity and better user experience.
Extreme Power Design: 26+2+phases power design with 105A Smart Power Stage and dual CPU power connectors are ready to unleash the maximum performance.
Premium Thermal Module: Wavy fin design, Direct Touch Cross Heat-pipe, Aluminum Cover, 7W/mK thermal pads, Double-Sided M.2 Shield Frozr and Frozr AI software ensure the utmost performance with low temperature.
Maximum 7 x M.2 Connectors: Onboard septuple M.2 connectors including one PCIe 5.0 solution for the maximum storage performance. The double-sided Shield Frozr design keeps M.2 SSDs safe while preventing throttling, making them run faster.
Latest Network Solution: Onboard 10G Super LAN, Intel 2.5G LAN and the latest Wi-Fi 6E solution deliver the best online experience without lag.
Lightning Fast Game experience: PCIe 5.0 slots, Lightning Gen 5 x4 M.2, Dual Front USB 3.2 Gen 2x2 20G with one 60W USB Power Delivery.
DIY Friendly Design: Patented Magnetic & Screwless M.2 Shield Frozr, EZ M.2 Clips, Smart Button, Pre-installed I/O Shield, Steel Armor, Metal Backplate
8 Layer PCB with 2oz Thickened Copper: Provides higher performance and long-lasting system stability without any compromise.
Audio Boost 5 HD: Ultimate audio solution with the latest premium ALC4082 audio processor combining ESS audio DAC and amplifier deliver the breathtaking experience.
Showing 37 to 38 of 38 (2 Pages)