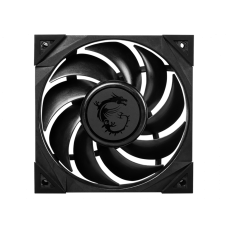 MEG Silent Gale P12 120 mm Fan
The fan blades are also carefully crafted to maximize airflow performance, optimized at a 32-degree angle to retain 58% of the airflow.

The MEG SILENT GALE P12's fan blades are constructed by LCP (liquid crystal polymer), a compound that reduces vibration while the fan is running at maximum speed and has a high strength that can withstand thermal expansion.
The HDB (hydro-dynamic) bearing effectively reduces friction noise as well as increases the fan's life expectancy.
The anti-vibration gaskets sitting on the four corners of the fan are used to reduce rattling caused by the vibration.
The frame is designed with an angle and curvature so that airflow is directed and channeled in a highly focused stream. This design minimizes turbulence, and the focused airflow enhances static pressure.