Tri-band: Supports 8-streams on 2.4GHz and dual 5GHz simultaneously, up to 6600 Mbps speed

WiFi 6 technology: Features MU-MIMO, OFDMA, beamforming, and 1024QAM to boost WiFi efficiency
AI QoS: Automatically optimizes network traffic and prioritizes data packets according to gaming, streaming, WFH and AI auto modes.
Game accelerator: Provides extreme low latency for immersive online gaming experiences
Powerful processor: Equipped with a 64-bit 1.8GHz quad-core processor
Premium cooling design: Includes heat pipes that ensure the router can sustain high-performance traffic
Ultra fast wired speed : Unleash the potential of your next-level network with a 2.5 Gbps WAN/LAN port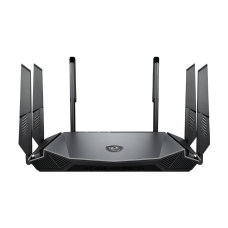 Tri-band: Supports 8-streams on 2.4GHz and dual 5GHz simultaneously, up to 6600 Mbps speed

WiFi 6 technology: Features MU-MIMO, OFDMA, beamforming, and 1024-QAM to boost WiFi efficiency
Game accelerator: Provides extreme low latency for immersive online gaming experiences
Powerful processor: Equipped with a 64-bit 1.8GHz quad-core processor
Ultra-fast wired speed : Unleash the potential of your next-level network with a 2.5 Gbps WAN/LAN port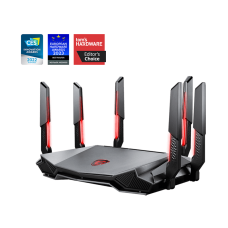 New 6 GHz band: Game on the latest 6 GHz band and enjoy interference-free WiFi with concurrent tri-band transfer speeds up to 6600 Mbps.

AI QoS: Automatically prioritize gaming packets with AI-enhanced QoS; change preset modes among AI-auto, gaming, streaming, and WFH by simply pressing the dragon shield button or the app.
Unstoppable gaming: play with an uninterrupted WiFi connection for immersive experiences in online gaming, UHD video streaming, and livestream broadcasting.
Thermal design: heavy duty thermal design with heat pipes ensures the router can handle high-performance workloads.
Powerful processor: Equipped with a 1.8GHz quad-core processor to fully support WiFi 6 features such as MU-MIMO, OFDMA and beamforming.
Showing 1 to 3 of 3 (1 Pages)